Today's post is a hat tip to Robert Hruzek, the guy who wears a twenty-gallon cowboy hat.  (Yeah, it isn't ten-gallon anymore–have you seen the price of gas lately?)  Every week, Robert corrals a bunch of people to write about stuff and the current theme is:  What I Learned From Animals. 
Instead of slaving away like the rest of us, Robert and his wife are lounging on vacation at Laity Lodge.  But to be fair, he did submit his entry before he left:
The First Step to Effective Communication.  Go read it, he's got some funny stuff about a deaf cat.
I've decided to turn this blog post over to Kaycie, my West Highland White Terrier, whom my sister-in-law/dog-groomer affectionately calls a mutt, because she's missing some AKC papers.   I had a long talk with Kaycie the other day and she taught me a few things.  So I'm letting her share it here.  Without further ado, here's Kaycie: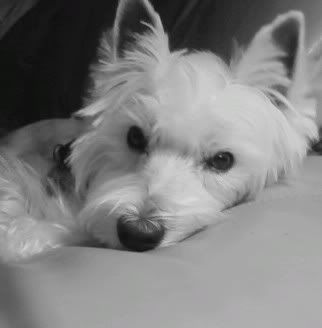 Woof, woof, arrh, arf, ARF, arroooooo.
(Uh Kaycie, you need to use English here.  Not everyone is versed in doggie-speak.)
Hi, my name is Kaycie.  Karen went upstairs to take a hot bath and read a book.  I'm going to share a few things that I've observed in my life that you can apply to yours.
First of all, I see you people running around a lot, darting from one activity to the next.  The garage door keeps going up and down, up and down, several times a day.  It keeps interrupting my sleep.  And you know what happens when you don't get enough sleep?  That's right.  You end up with a cranky dog.  I'm more likely to snap at you when I don't get my zzzz's.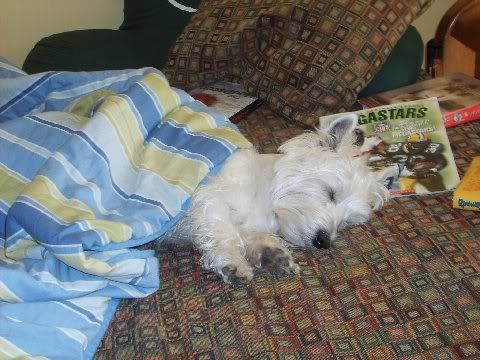 But, while we're on the subject of sleep–let's talk about naps.  For some reason, I don't see you people getting enough sleep, nor taking enough time out for naps.  Don't you know that a nap does wonders?  When you're tired, ya gotta slow down and take a nap.  Heck, when I take a little ten-minute power nap, then I'm up and ready to chase some rabbits.  I get a lot more speed on me that way.  Every day, I gotta get those varmits outta the yard for Karen.  She doesn't like it when her pretty yellow flowers are chomped on.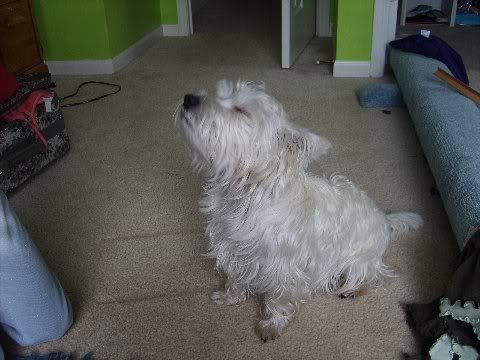 Speaking of being on top of my game, every now and then I like to take some time to zone out–or as you people call it– meditation.  Sometimes I get really stressed out when I can't find my bones among the mess in the house.  I take a few minutes to calm my mind and then I fire up the nose again.  I can usually find my bones that way.
I also find that it's important to learn something new each day.  Not only can I follow commands by voice, but I know them in sign language too.  I get a little pissed at my master though, because in the winter time, she's inside signing "go to the bathroom" and I'm outside in the cold trying to take a dump.   But anyway, I was talking about learning new stuff.  That's how I keep my mind sharp– I like to try new things.  I tried taking up guitar, but discovered that I didn't have any talent in that department.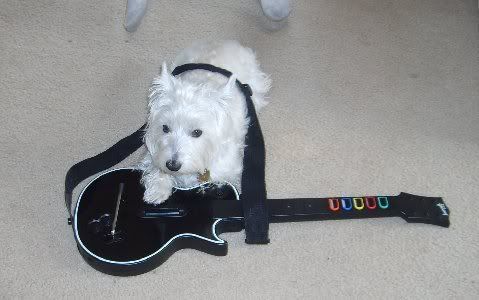 Of course, Karen doesn't like everything I try.  For instance, I once tried to chew the leg on a kitchen chair.  Karen got all cranky and there were a couple of "No's!" hollered at me.  I learned to let that one go.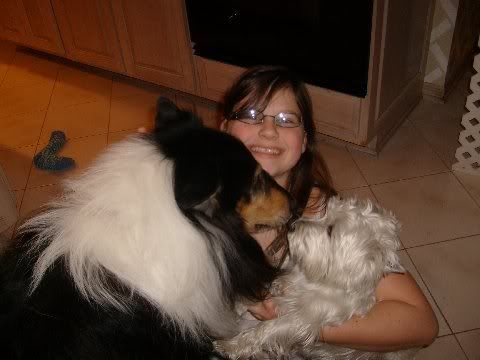 I've learned that sometimes you gotta love your enemies.  Grandma has a big collie named Sonny.  I don't like Sonny all that much–he likes those Milk Bones out of a box and I won't have anything to do with those tastes-like-paper-fake-looking-bones stuff.  But somehow, we get along and every now and then, we'll head to the yard and chase away the squirrels together.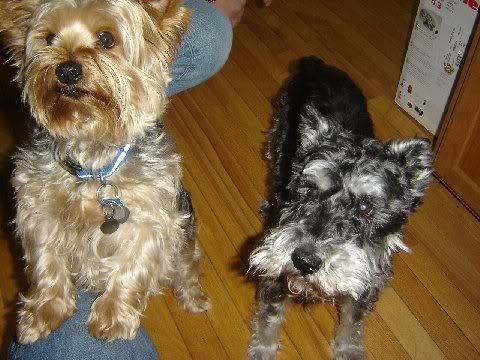 Everyone needs a friend or two to hang out with.  I hang out with my dog pals, Buddy and Pepper when they come over to visit.  Once in a while, we get on each other's nerves and have a brawl–especially when one of them digs into the wrong supper bowl–but we find a way to get over it and buddy up again.
But you know what's important in life?  The ones you love.  I get all excited when the kids come home from school.  I jump all over and tell them I love them.  When Grandma Griffard comes to visit, even though she's not crazy about dogs, I roll over and let her rub my belly and she finds a way to love me too.   Every night, I hop into bed with Karen and curl up at the nook in the back of her knees.  Once in a while, I go over and give Joe a nudge.
Life is good.  Enjoy it.
http://agelesspassions.com/wp-content/uploads/2016/09/ageless-passions.png
0
0
Karen Putz
http://agelesspassions.com/wp-content/uploads/2016/09/ageless-passions.png
Karen Putz
2008-06-14 07:04:04
2008-06-14 07:04:04
What I Learned From... My Dog