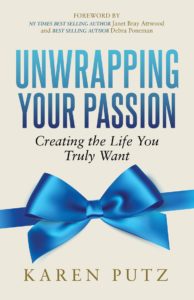 Are you hitting the snooze button twenty times in a row on the days you have to get up for work?
Do you feel like you've settled into a ho-hum routine?
Are you looking for "more," but you're not sure what "more" is?
I get it.
I've experienced all of that. I woke up on my 44th birthday feeling old, and wondering if the best years of my life were over with.
I was fortunate. I rediscovered a long-buried passion and created a whole new, different life. In the process, I talked to over 200 people about the topic of "passion." I put all of the lessons about passion into my new book, "Unwrapping Your Passion."
Want a sneak peak? Download the first chapter here!
Download your free chapter now