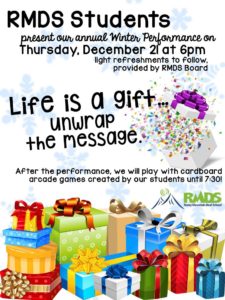 The email came out of the blue.
"I wanted to let you know that we are using quotes and messages from your book in our Winter Play on December 21st to fit the theme 'Life's a gift, unwrap the message. I know you live out in Chicago, but wanted to share the invitation with you, just in case you were able to attend. If you can't attend, maybe you could VP with us in the near future just so that the students can put a face to your amazing work. Lastly, we wanted to thank you for the courage it took for you to write this book (Unwrapping Your Passion) and for sharing it with us. We were inspired!"
The email came from Heather Hapke, a transition teacher at the Rocky Mountain Deaf School. Heather came to a book signing for Unwrapping Your Passion at the Barnes & Noble in Golden, Colorado back in September.  She shared bits and pieces from the book with her students.
December 21. It was so close to Christmas. It would be crazy to go…
But…I'm a big believer in synchronicity. I believe things happen for a reason. It's a lesson I learned from the many mentors I learned from when I wrote Unwrapping Your Passion.  Opportunities show up in our life and when they are meant to be, they fall into place.
So I reached out to Southwest Airlines and explained the opportunity. Go, they said. We'll make it happen for you.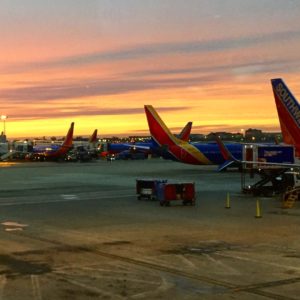 It was a beautiful morning when we arrived at Midway to board our flight. My oldest son David was flying from Washington D.C. and meeting us out there. At the last minute, the hubby had to stay home–he was recovering from surgery and still not quite steady enough on his feet to attend.
The Rocky Mountain Deaf School was the brainchild of Cliff Moers, the Director of the Colorado Commission for the Deaf and Hard of Hearing. The school began in 1997 with just 11 students. The current school was built in 2014 and today, it is home to nearly 70 students, providing instruction in American Sign Language and English.
Our first stop was in the high school to meet up with Heather and talk to the students about #Passion. The students eagerly gave us a tour of the building and it was easy to see that they took a lot of pride in their school. Every inch of the space was designed specifically for deaf students, by a deaf architect working with a design firm. For example, the floor in a social area is designed so that students can stomp their feet to get the attention of another student, even from a distance. The classrooms are arranged in a semi-circle so that students can communicate easily. The hallways are wide and open–so that signs can be seen from several areas.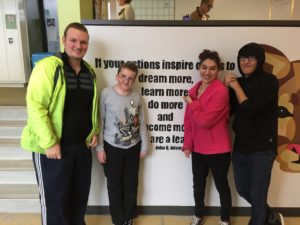 Rocky Mountain Deaf School is not a residential school–students are bused to and from home each day. All of the staff are fluent in American Sign Language and the majority of staff are deaf.
The play featured students from preschool to fifth grade. My co-worker from Hands & Voices, Jeannene, introduced me to a young girl who played a Lion. As I watched the student on stage, she confidently advocated to have one of the lights moved as it was blinding her and her classmates during their performance. The ability to advocate for oneself is a coveted skill and this student owned it.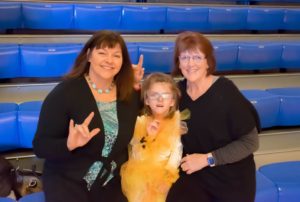 Afterwards, I signed a few books and donated the rest to RMDS to use as a fundraiser. The next day, we took a tour of Flagstaff mountain before heading home to celebrate Christmas.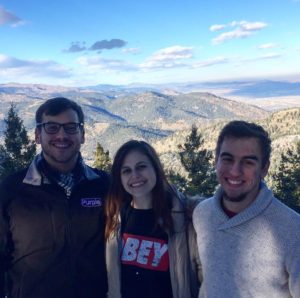 http://www.agelesspassions.com/wp-content/uploads/2017/12/IMG_4613.jpg
2448
3264
Karen Putz
http://agelesspassions.com/wp-content/uploads/2016/09/ageless-passions.png
Karen Putz
2017-12-29 18:43:49
2018-01-03 15:14:36
Life's a Gift, Unwrap the Message