"Are there any alligators in this lake?"
I was down in Florida, about to take a barefoot water ski lesson from a two-time World Barefoot Champion. The thought of alligators didn't cross my mind until that moment. I was about to get into a lake that averaged 600 alligators per square mile…
And I was scared.
"Alligators don't come near the boat because the engine scares them away," my instructor reassured me.
My passion for the sport of barefoot water skiing was about to outweigh fear. I put my feet on the water, stood up, and felt a joy that had been buried for too many years.
When you do something you're passionate about, you are willing to challenge yourself to do more than you ever thought you could do — you step way, way, way out of your comfort zone when you live on the edge.
I was hooked, but there was just one problem — the more lessons I took, the more the fear escalated. When I floated in the water while waiting for the boat to pick me up, I imagined hungry 13-foot alligators slithering underneath.
Then the nightmares began.
At three in the morning, I was jolted awake by the image of an alligator with a wide-open mouth about to snap down on me.
I contemplated giving up the lessons and skiing in lakes that were alligator free — but that would mean giving up passion over fear.
"You need to face your fears," the World Barefoot Champion told me. "You need to see them for the magnificent creatures they are."
"Are you crazy! I can't do that!"
I shuddered at the very thought.
All fear stems from the imagined and the unknown. The human mind is very powerful in dreaming up scenarios that feed on fear. Yet, the only way around fear is smack dab through it.
And here's the thing: You attract what you fear. How do I know this? Because alligators started showing up in my life left and right.
A few years later, I started barefooting with Ken Cowles — who is known as The Gator Guy. He's a state licensed alligator trapping agent. He's the guy you call when a wayward gator gets stuck in your pool.
"We need to conquer that fear you harbor," he told me one day. Then he hauled out a ten-foot gator and made me sit on it.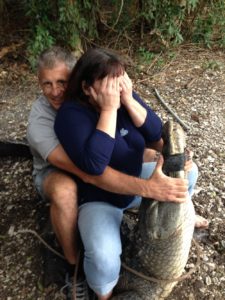 I was shaking for a long, long time afterwards.
The act of getting upfront close to the very thing that I feared most was cathartic. I discovered I had the courage to do the very thing I was extremely frightened of.
There's a part of you that comes alive when you do something that you think you cannot do and you get to the other side of it.
If you're holding back in life because of fears that you harbor within you, it's time to get clear on what you WANT in your life, not what you fear.
Choose passion over fear.
Karen Putz is known as The Passion Mentor. For a daily dose of passion, follow her on Instagram at The Passion Academy.  To unwrap your own passion, grab the book, Unwrapping Your Passion.
http://www.agelesspassions.com/wp-content/uploads/2017/12/karen-on-alligator.jpeg
1333
999
Karen Putz
http://agelesspassions.com/wp-content/uploads/2016/09/ageless-passions.png
Karen Putz
2017-12-02 18:55:04
2017-12-02 18:55:04
Choosing Passion Over Fear