"No!! Peggy died. Noooo!!"
The text from my friend Sue jolted me awake. I fought to make sense of the words as I wiped sleep from my eyes.
Peggy. Gone.
How could that be? We had chatted through Facebook before I left for Africa. And now there would never be another chat again.
I met Peggy through Sue–the two of them met in college. Through the years we stayed in touch, always waiting for that proverbial "Someday" when the kids were grown and we could have more time together.
The three of us shared a love for John Denver songs. Despite being deaf, we were able to enjoy his music. One year, I made a CD of my favorite John Denver songs for Peggy and I introduced her to songs she hadn't heard him sing before.
Last year, we got together to attend a small-town production of John Denver's music. It was just two days after my mom died. I needed that time away to handle my sorrow. What better way to spend the day than with music and friends.
After the last song ended, we took a walk in the woods, soaking up the beauty around us. We paused on a bridge, grabbing a snapshot.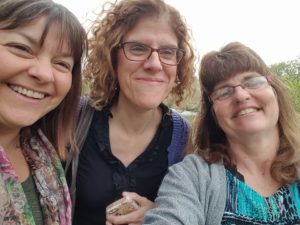 "We didn't know we were making memories, we were just having fun."  ~Unknown
Peggy took us to the river. As we gazed at the water, an eagle flew by. John Denver loved eagles and immediately, the song "The Eagle and the Hawk" flowed through my mind. I felt my mother's spirit at that river. I ached for her.
And now I ache for Peggy.
Here are the words to her favorite John Denver song, The Wings That Fly Us Home:
"I know that love is seeing all the infinite in one.
In the brotherhood of creatures, through the Father, through the Son.
The vision of your goodness will sustain me through the cold.
Take my hand now to remember when you find yourself alone: you are never alone.
And the spirit fills the darkness of the heavens.
It fills the endless yearning of the soul.
It lives within a star too far to dream of.
It lives within each part and is the whole."
~The Wings That Fly Us Home, John Denver (Peggy's favorite song)
http://www.agelesspassions.com/wp-content/uploads/2017/07/IMG_2117.jpg
720
960
Karen Putz
http://agelesspassions.com/wp-content/uploads/2016/09/ageless-passions.png
Karen Putz
2017-07-09 11:34:08
2017-07-09 11:50:54
We Didn't Know We Were Making Memories