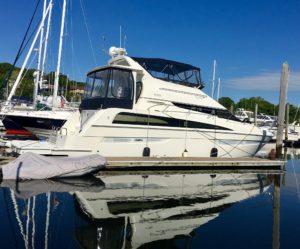 Stephanie Palmer came home from work one day and told her husband Jim, "We need an adventure."
Stephanie, who worked in early childhood education for 25 years, was getting ready to retire and partner with Jim in his coaching business, Dream Business Coaching.  With the business, they could work anywhere in the world as long as they had access to cell service and a solid internet connection.
After 28 years living in the same home, they were toying with idea of selling the house and doing something different–yet, they weren't quite sure what "different" was going to be.  They both enjoyed watching shows on HGTV that showed beautiful places to live and they considered moving to the Caribbean.
Then one day, Stephanie had an idea.
"Why don't we live on a boat?"
Stephanie and Jim always enjoyed their outings at sea on their 30-foot Sea Ray. Every time they went out on the water, stress melted away and they came off the boat renewed and re-energized. The more they thought about it, the more the idea of living on the water appealed to them.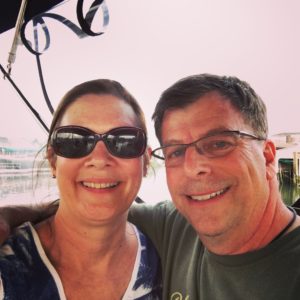 When Stephanie and Jim presented the idea to their four children, they received positive feedback and support. Stephanie recalls how it all unfolded:
For the past few years Jim had felt 'finished' with the house we were living in.  It was the house where we'd lived for the past 28 years and raised our children.  I was torn.  We had kept it up and done some remodeling and an addition that I was enjoying.  I also liked to think of it as a place where the family came together for holidays, where our grandchildren could play in the beautiful yard where their parents had played years before.   Finally, I didn't have any idea where I wanted to move to next.

I had worked in early childhood education for over 25 years and I was feeling ready to move on. Truth be told, I was burnt out and didn't enjoy the work anymore.  I didn't know what I wanted to do, as far as work but one day it just hit me – I needed a big adventure!  Not sure what that was, what it looked like, but I had a feeling.  Together Jim and I batted around a bunch of ideas.  I knew how much Jim loved boating and I had a desire to travel, so I threw out the idea of living aboard a boat.  Jim LOVED it!!!  

I was a bit uncomfortable with telling other people about this home we chose.  I have been a person that feels the need to do what is acceptable and expected.   Our children were the first people we informed of this idea.  They were so excited about it!  It is truly their excitement and encouragement that has kept me moving forward.  

We spent about a year preparing for the change.  I gave notice at work.  I began to pack up the contents of our home deciding what to throw out, donate or put in storage.  We prepared the house for sale.  Jim searched boats for sale.  Over the year, Jim and I were amazed at how smoothly everything went.  We felt God's hand at work, guiding us.  

As I write this we have been living aboard the boat for 3 months.  I can't believe how much I love it!  Life is simple, comfortable and easy.  We feel like we are on vacation all the time.  For now we have an 18 month plan, this summer in New England, the winter in Florida and then the next summer back on the Chesapeake, our home port.  We are considering spending more time living on the boat and traveling either the Great Loop or to the Bahamas.  But what we are both content with is making decisions as needed, we don't have everything planned out to the nth degree, we are just going with the flow.
Stephanie and Jim's new home is a 50-foot Carver yacht. In the beginning, they had to learn everything they could about navigating a large craft themselves. They were nervous, excited, and a bit scared at taking on such a big adventure, but Jim knew that from his own coaching practice, the most growth occurs when you step out of your comfort zone.
"Stephanie and I, we couldn't run the boat ourselves, its a lot of teamwork," Jim said.  "Pulling in and out of the marina is a two person job.  When we left the coast of New Jersey  going into New York and we saw the Statue of Liberty, we got chills. We had spent an hour in choppy water  and we were pushed out of our comfort zone in a way that we had not been pushed out of for several years."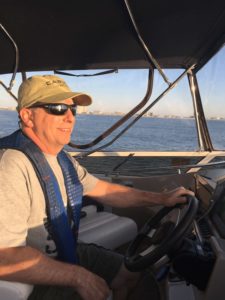 I asked Jim to share the challenges they faced. "Challenges? You mean other than today, yesterday, and the day before??" Jim chuckled. "There are definitely times of challenge.  When you try to do something new– live on a boat, start a business, you sometimes become excited  about doing something fun and different, then the other side of your brain says,  'what if,  what if,'  what if I can't park it, or hit someone, or run out of gas or I can't run my business…
"A lot of people don't do big things because they're unsure of what will happen," Jim continued. "If you are thinking about doing something big–go for it. Life can be shorter than you want it to be. If you have an adventure in mind–your mind will play the "what if" game, but go for it. People near death regret the things they didn't do–time ran out on them. Stephanie and I didn't want to get to the end of our lives with regret, so for better or worse, we are doing it."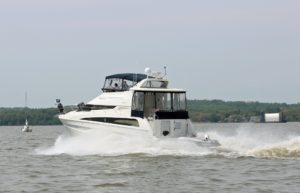 During one of the first trips on a river, the very thing that Stephanie and Jim worried about, happened. They ran aground in shallow water, right in front of a marina, with people on the dock watching. Jim turned to Stephanie and he laughed. "We hit the ground. Check it off the list. No one got hurt–there ya go!"
What's more, Jim explained, there are two types of people, those who run aground, and those…who lie about it.
Jim and Stephanie work three days a week on their business and use the other four days to explore new places and things. As a business coach, Jim applies one of Zig Ziglar's famous quotes to his business: You can get everything in life that you want if you will just help enough other people get what they want. Jim is all about helping others create successful dream businesses. "Passion is something that lights you up and gets you up out of bed earlier–you will work a little harder–that's what passion does. I don't live for the weekend. Here, every day feels like a vacation."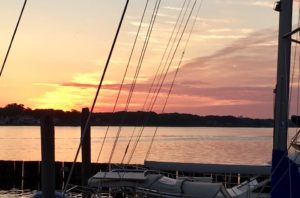 And every day on the water, Stephanie and Jim are grateful to see both the sunrise and sunset. Success means being able to live life on your own terms, Jim says.
"Success doesn't have to do with how much money you earn. It's about living life the way you want to live.  You're not wanting for anything–you're content. You can make your own choices. That's an internal level of success that people are striving for. The ultimate thing is to have time freedom–and live life on your own terms."
For more on Jim and Stephanie:
Jim Palmer, Dream Business Coach
http://agelesspassions.com/wp-content/uploads/2016/09/ageless-passions.png
0
0
Karen Putz
http://agelesspassions.com/wp-content/uploads/2016/09/ageless-passions.png
Karen Putz
2017-08-07 20:12:04
2017-08-07 20:13:33
Would You Sell Your Home To Live on a Boat?