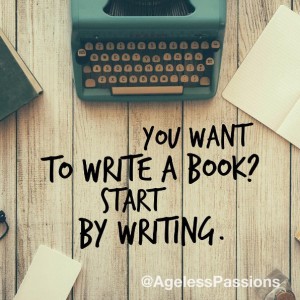 So you want to write a book but you really have no idea how to start…
Or maybe you're just procrastinating because it's easier to put things off than to face a blank page and thought paralysis.
I know…
I've been there.
There's really no other way to begin–you simply have to write.
Just start. The words may be a few jumbled thoughts at first. You might have a vague idea of what your book should be about. You might trip yourself up and think, "who am I to write a book?" or "Everything good has already been written."
Well, no one has read YOUR book yet.
Once you actually start the physical capture of thoughts into written form–something magical happens. That's right–you've stirred the universal magic into motion.
I just sent my tenth book off to a publisher (I self-published my other books) and I have two more books planned for this year.
Over the years, I've developed some strategies and short-cuts to make the whole book writing process a little more streamlined and easier.
Here are some tips:
Use Evernote or Notes in your phone to write ideas, paragraphs, or even whole chapters. Use your voice to text option and simply speak into your phone. Write while waiting at the doctor's office. Write while walking your dog. Write while relaxing in a hot bath (don't drop your phone!) Later, you can transfer this to Word, Google Docs, or Scrivener. Email a copy to yourself as a backup.
One of the magical things for me is actually a $1 spiral notebook. I carry it everywhere. I get my best results when I go to a place surrounded by nature and let my thoughts flow.
Keep a quote journal and add quotes as you come across them. You can place relevant quotes throughout your book or at the beginning of every chapter. 
Write out 50 life lessons you've learned personally. Write out 50 life lessons or stories from others. You can use these lessons in different chapters.You may also be sparked to write several books from the lessons you've captured.
Set aside time to write every day. I often hear the excuse, "I really don't have the time." If you really, really, really want a book in your name, you'll MAKE the time. Get up 30 minutes earlier. Go to bed thirty minutes later. Ditch 30 minutes of TV. Jerry Jenkins wrote 187 books. He wrote from 9 pm to 1 am when he had a full time job.
Set a deadline and have an accountability partner. These two strategies will move your book to the finish line much quicker than if you do it alone.
Hire a top-notch editor.  When you make mistakes–relax. I just read a brand new Janet Evanovich book that had a typo in it. 
And remember this: you are the only person who can write from your own perspective. Don't be a carbon copy of anyone else. Write from your heart.
Karen Putz wanted to be an author since she was 11. It took her a few years to finally start writing. She threw a few books up on Amazon: Karen Putz, Author. 
And here you go, a free book just for you: Outside the Wake
Karen Putz
http://agelesspassions.com/wp-content/uploads/2016/09/ageless-passions.png
Karen Putz
2017-02-16 17:46:32
2017-02-16 17:46:32
So You Want to Write a Book, But Have No Idea How to Start