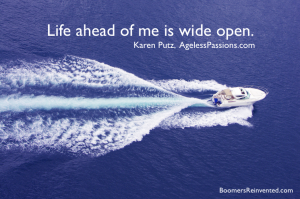 "All our life experiences are building blocks to the next opportunity, to the next path, to the next journey, and it's up to us to take that and go in that direction."
 ~Karen Putz
I'm turning 50 this year and I am so looking forward to celebrating that milestone.
But at the age of 44, I felt quite the opposite about life. I was NOT looking forward to the years ahead. Life had become ho-hum and I wasn't thrilled with approaching mid-life. Instead, I was looking back with regret, wishing I had done this or that. I had the feeling that the best years of my life were over and done with–and that aging was a downhill process.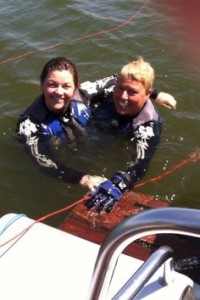 Meeting 66-year old Judy Myers turned all of that around for me. I first saw her on the TODAY show which featured her story of taking up an extreme sport at the age of 53. Judy was older than me and truly living life to the fullest. We both shared a love for barefoot water skiing, and she brought me back to the sport I loved as a teen. Our story has been shown on PBS and CNN:
In the last five years, I've reinvented myself over and over by trying new things and experiencing new paths. In fact, I love helping others to the same–to unwrap their passions and start living life wide open.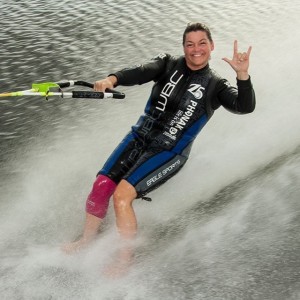 Over at Boomers Reinvented, LeAura Anderson is on a mission to encourage the Boomer generation and beyond to reinvent themselves and live their best life.  I shared my own reinvention in an interview with LeAura in which we talk about passion:
Life Wide Open (Captioned)
If the first half of your life journey hasn't quite been the life you wanted, you can simply start reinventing yourself right now and pivot in a new direction. Learn new skills or try something you've always wanted to do. Connect with a mentor and receive guidance. Experience something you've been putting off for "Someday."
Life begins now. Don't put it off. Reinvent yourself.
Karen Putz
http://agelesspassions.com/wp-content/uploads/2016/09/ageless-passions.png
Karen Putz
2015-05-22 09:14:29
2015-05-22 09:14:29
Reinventing Yourself at Any Age