"Passion is a very personal experience.  When you begin to do what you love, what you are truly passionate about, your life will be irresistibly pulled in directions you can't even begin to imagine."

– The Passion Test, Janet and Chris Attwood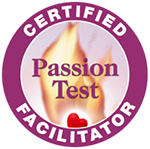 What I love more than anything is helping others unwrap their passions and invite more joy into their lives. That's why I became a certified Passion Test Facilitator and 48 Days coach.  When I discovered The Passion Test through a friend, my life took a passionate turn. I identified my top five passions and my life aligned right up with them. I've had more fun and adventures in the last couple of years than I have in the last twenty.
Do you feel stuck, like you're drifting through life, and want change in your life?
Do you believe you have a purpose, yet can't seem to escape the boredom, mediocrity, and routine of the status quo?
Do you wish to discover what turns you on, fires you up, and make your heart sing?
I became a Certified Passion Test Facilitator and trained with Janet Attwood, co-author of The Passion Test so I can help you get the knowledge, ideas, hope, and inspiration that will give you a new outlook in life and launch you toward living every day with joy!
Unwrapping Your Passion Two sessions of 60-minute Passion Mentoring, includes The Passion Test.  During these sessions, you will:
identify your top five passions
evaluate how present those passions are in your life
and set markers to recognize when those passions appear your life
"The Passion Test is the simplest, clearest way to get started on knowing what you want –by getting clear on who you are". T-Harv Ecker, Secrets of the Millionaire Mind "It's simple, it's easy, and it's profound." Jack Canfield, co-creator of Chicken Soup for the Soul
Are you ready to ditch the "ho-hum" and live a life of passion?
SIGN UP for your sessions today for only $197
(a 101.00 discount for a limited time)
Other ways to Unwrap your Passions At Any Age:
Book Karen for an in-person 3 hour workshop — 3 hour session by contacting Karen@AgelessPassions.com or call 630-405-6262.

As a speaker and Passion Test Facilitator, Karen truly captivates you with both her words of wisdom and sense of humor.  She delivers an uplifting and powerful message on how we hold the key to identifying and pursuing our passion.  Karen is a true inspiration in how personal strength and perseverance can overcome any obstacles in our pursuit of our goals. She is a role model for all and her personal journey and story is a great example how through extraordinary human spirit and hard work any one can achieve and fulfill their passion in life.
AnnMarie Killian, Austin, TX
I found myself stuck! Paralyzed by the thoughts of where I wanted my life to go and my perceived reality of where it was indeed headed.  I reached out to Karen to help me find my way. It was a great experience. Karen patiently took me through the Passion Test, gave me homework and followed up. The questions that she guided me through helped me to prioritize what I loved to do. She helped me to put aside fear and reservations and just put the dreams that were in my heart on paper, thus making them real to me. At the end of the exercise, I had my 5 top Passions listed and committed to do something towards each goal daily.  In the past few months, I've realized how my dreams are now an everyday reality. In the beginning I focused on completing each task daily, but now it has become a part of my unconscious routine.  They are posted in my office as a daily reminder of what I am truly passionate about, and as motivation to keep dreaming. Every day is a step towards seeing them accomplished. Thanks Karen! You are an inspiration!
Djenne-amal Morris, North Carolina
Karen is a passion mentor. She helps people unwrap their passions at any age. She's a barefoot water skier, a very prolific author (I think she publishes a book a month at present), and someone who works with lots of different people and organizations to help them drive action in the direction of their passions and interests. Oh, and she's deaf. Not that that's much of her story, but it sure gives her some added work to build up her voice.
What does Karen do to succeed?
She publishes online constantly, both personal stories as well as stories that illustrate her point.

She writes and publishes books.

She's active in attending events.

She has a very simple message that takes a lot of work to articulate, so she tackles it daily with different language to catch people's attention.

~ Chris Brogan, Owner Media