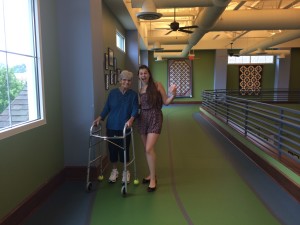 "I really like this house. I can see myself living here," my mom said.
 My mom, my sister, my daughter, and my niece were all crammed into a car for a winter-getaway trip to Florida. On the way down, we stopped to tour the model homes for sale at an adult-living community in Nashville. My mom and sister were tired of the long winters in Michigan and looking for a new place to live. The target was Florida and they were planning to rent a house there for three months.
Everything changed the minute we all walked into the house in Nashville. A few hours later, my mom and my sister made the decision to sell the lake house we've had since 1977 and move to a place where they knew no one.
Just like that.
The move turned out to be a rough one, with one challenge after another presenting itself. But at 87 years of age, after dealing with a lifetime of challenges, my mom simply buckled down and tackled them as they happened.
There were times my mom and sister questioned their decision, but overall, the move was the best thing for them both. Despite health challenges, my mom has been trying new things–such as learning yoga and zipping around the track with her walker.
When it comes to creating a passionate life, one of the most common complaints I come across is: "I'm too old."
Are you really?
Check your pulse. If you still have a pulse, you still have a life. At any given time, you can change your thoughts, your attitude, your outlook, and your actions.
Karen Putz
http://agelesspassions.com/wp-content/uploads/2016/09/ageless-passions.png
Karen Putz
2015-08-03 14:49:41
2015-08-03 14:49:41
My Mom's New Life, How You Can Choose to Live Passionately At Any Age