We just came back from a funeral. An extended family member passed away from a sudden heart attack. He had a beautiful memorial to celebrate his life–the church was full.
Death has a way of nudging us to do life differently–to reach out more, to hug harder, to love deeper.
I had been stagnant for a while. A new job came with a learning curve and time devoted to writing technical stuff. I had added so much to my plate that things were falling off and crashing to the ground. I launched a book and wrote another book in the same time period. Coupled with travel, speaking, and coaching, the plate had been bending and I was trying to keep everything on the plate. In fact, one of the topics I covered with my plate-juggling friend, Tina Childress, was: "How to Spin 27 Plates and Keep Them From Crashing. (Usually.)"
Jackie Woodside, author of Calming the Chaos and an upcoming book, The Money Vibe, told me, "Take something off your plate."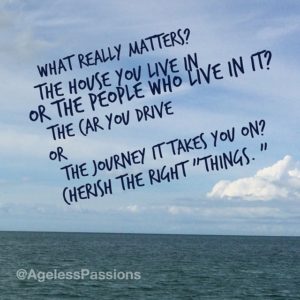 Less is more. I know this lesson. I've been trying to assimilate it into my life for the last year and half, with results that are a "half and half" success rate. The hubby and I downsized our house, trading it for a townhouse just minutes from his work. We rode our bikes downtown and split meals at our favorite restaurant on Saturday afternoons. We donated or sold a lot of our stuff, yet a lot of stuff remains–some which still tugs at our hearts (precious pictures!) and some which simply needs to be organized or gone.
In the last few years, several mentors have taught me the practice of gratitude.
When you wake up in the morning, what are you grateful for? 
When you lie your head on the pillow at night, what are you grateful for?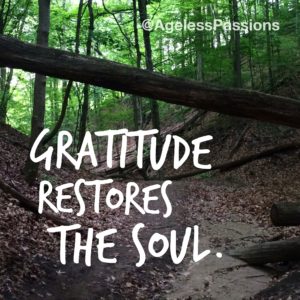 This simple practice of reflecting gratitude has shifted my view of bliss. Bliss happens when we are grateful for what we have–for what is good in our life at the given moment. When I forget to practice it, that's when life dumps road blocks and bumps in my way. It's so easy to lose the focus on what's good when you're deep in the bad.
The one thing I know for sure is this: when we forget the gift of gratitude, life can take away our precious gifts.
And to you, dear reader, I'm grateful for you.
Check out Karen's latest book, Unwrapping Your Passion, Creating the Life You Truly Want
http://www.agelesspassions.com/wp-content/uploads/2017/11/IMG_7439.jpg
2048
2048
Karen Putz
http://agelesspassions.com/wp-content/uploads/2016/09/ageless-passions.png
Karen Putz
2017-11-22 23:11:51
2017-11-22 23:11:51
Reflections of Gratitude